Traditional Algerian Sables (Cookies) - Like Linzer Augen
Um Safia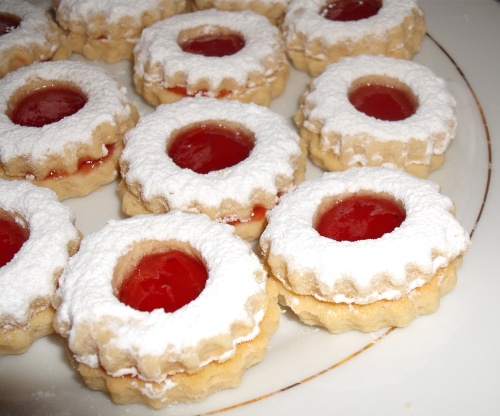 This is my own family recipe for the traditional Algerian 'Sables' cookies. These sables are very easy to make & are a real favourite in our home. We like them with strawberry jam filling & icing sugar dusting or with apricot jam filing & dessicated coconut finish... but you can use any of your favourite preserves (if they have fruit pieces in you should sieve them before using. I have a special 4cm fluted sables cutter but you can use any cutters. I oftern use star cutters then punch out the small round centre by using a small metal bottle top (like on food colourings), or round cutter & using a small star, heart or flower cutter for the centre. These sables freeze nicely in layers separated by parchment or waxed paper in an airtight container. Allow to defrost in a single layer then dust the tops & fill with jam.

Lovely! Very beautiful. I made these with rose petal jam (Greek) found in Persian shops. I simmered it a bit more as it tends to be a thinner jam. I made these as part of the sweet served during Ramadan in my FIL's dewaniya (male gathering). I used sweet butter (unsalted), rose water in place of the vanilla extract, plus the rest of the ingredients. I used a floured glass to cut the tops and bottoms and a floured top of a small water bottle to cut out the top centers, which worked well. I will make these again with the same or another jam! Made for Welcome to Algeria!
Preheat oven to 170°C
Cream the margarine & sugar(s) until light & fluffy.
Beat in the egg & vanilla, then gradually fold in the flour & baking powder.
Mix slowly until a soft dough forms. The dough is very soft & needs handling with care but it shouldn't be sticky. If your dough is still a little sticky, sift in a little extra flour.
Roll out to about 4mm thick, be sure to flour the rolling pin well.
Cut out 'tops & bottoms' for your sables.
Place on a baking tray lined with aluminium foil (shiny side up) & bake for 8 minutes. The sables should be just set but still white.
Allow the sables to cool on the sheet for a minute then remove to a cold plate or tray to finish cooling.
When the sables are fully cooled, heat the jam until bubbling.
Place all the sables tops onto a tray & dust generously with the icing sugar.
Allow the jam to cool slightly then spoon approx 1/2 tsp of the jam onto the underside of the sables 'bottoms'.
Then carefully place a 'top' over the blob of jam.
Allow to set, then store in one layer in an airtight container for upto 10 days.