Bayhill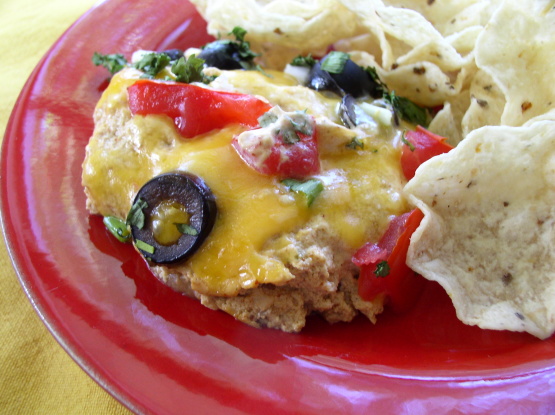 This dip is to die for!!! I use jalapeno flavored refried beans and top the dip with fresh, seeded jalapenos, because my family likes it extra spicy! This dip is EASY and certainly a crowd pleaser! I found this recipe in one of my Pampered Chef Cookbooks.

This is one of my favorite PC recipes and it originally called for the PC Southwest Seasoning Mix instead of taco seasoning, which is a great substitute. Also, the tomatoes, green onions, black olives and cilantro are to be added AFTER baking, not before. Hope this helps.
Spread the refried beans in a square stone baker (or a 9-inch square baking dish).
In a mixing bowl, combine cream cheese, sour cream, taco seasoning, and garlic.
Mix well with electric mixer.
Spread cream cheese mixture on top of refried beans.
Sprinkle cheddar cheese on top of cream cheese mixture.
Sprinkle olives, tomatoes, onions and cilantro on top.
Bake at 350 for about 15 minutes.
Serve hot with Tortilla Chips!