Touch of Orient Chicken for the Crock Pot OAMC
Parsley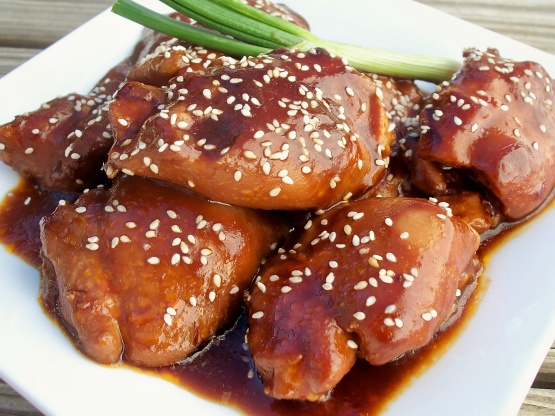 I got this recipe off an email list years ago. My family really enjoys this. This freezes really well.

This recipe came out great! I used about a dozen boneless chicken tenders. I also substituted 2 small cans of V8 juice for the tomato sauce based on another recipe I had seen. I added some ground ginger, black pepper, a dash of onion powder and a dash of Emeril's Essence. After 5 hours of cooking I drizzled some honey over the top and cooked another hour. I did add the cornstarch/water mixture at the end to thicken the sauce. I had gotten some dry results recently with chicken in the crock pot so I poked fork holes into the tenders when I put them in and they really absorbed the sauce all the way through and were very moist. I made white rice and when I served it, I shredded the chicken (which was easy since it was practically falling apart from cooking) and mixed the chicken, sauce and rice together and it was excellent!! My 2 kids-8 and 4-loved this also! Next time I may add some broccoli or even pineapple!
Place chicken crock pot.
In a bowl, combine soy sauce, brown sugar, garlic, and tomato sauce.
Pour sauce over chicken. Cover and cook on low for about 5 hours or until chicken is tender.
Remove to a plate and sprinkle with sesame seeds.
To Freeze: Cool, bag, label and freeze(package sesame seeds separate and add when reheating)
To Serve: Warm in microwave to desired temperature and top with the sesame seeds
Note: To toast sesame seeds: Preheat oven to 350°. Spread sesame seeds in a 9-inch pie or cake pan. Toast about 5 minutes or until golden. Or toast seeds in a dry skillet over low heat 3 or 4 minutes.