Totally Tempestuous Tater Tots
Derf2440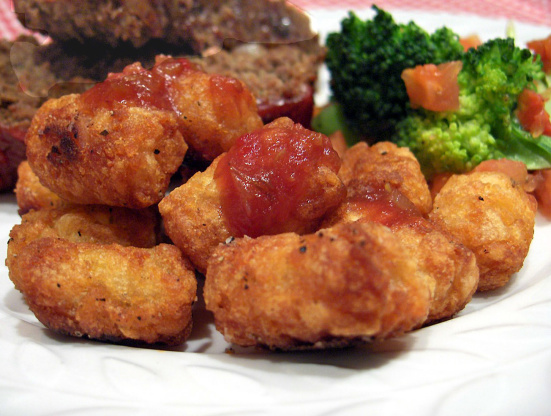 I don't like "burn" sensations, but I do like flavor. I hope you find this enjoyable.

YUM!!! these are sooo good!!! this is the one I will use forever; when they have tater tots on special it will be hard not to buy them. I did as suggested, I put one drop tobasco on each tater tot, perfect amount of heat and nothing else is required with the salt and pepper! Can hardly wait to have them again, thanks for posting!!January 25,2008, back again to tell ya how good these are, they have become a regular. thanks again for a keeper treat!
1⁄2 ounce cooking spray

7

ounces tater tots (Approximately 23, I prefer Ore Ida, NOT extra crispy)
1⁄4 teaspoon salt
1⁄4 teaspoon ground pepper
1⁄4 teaspoon Tabasco sauce (Green)
Preheat oven to 400ºF.
Lightly coat 10" pie pan with cooking spray.
Distribute Tater Tots evenly on pie pan.
Sprinkle salt and pepper (to taste) over Tater Tots.
Sprinkle Tabasco over Tater Tots (ideally 1 drop per tot).
Lightly spray Tater Tots with Cooking Spray.
Bake at 400ºF for 25 minutes.
Lightly tap tray on counter top until all Tater tots are loose.
Enjoy.