Totally Random Chocolate Dipped Pretzels
ChefLee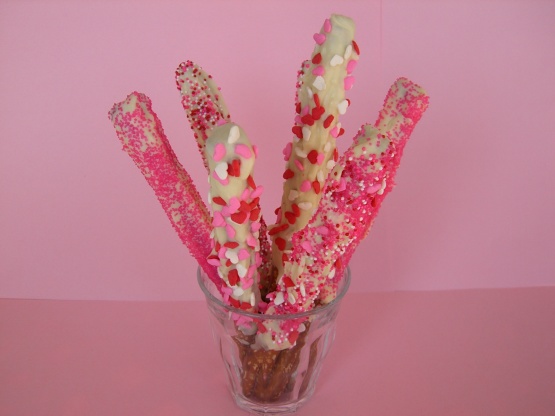 I don't quite remember were I got this one but I use to make them a lot and there great for a short notice party or sleep over! There also fun to make and you can add almost anything after dipping it in chocolate! You can use a microwave or a special chocolate melter to melt your chocolate, just make sure if your using a microwave to keep an eye on it ;) You also may need more chocolate depending on how many you want to make. If you want to make then mint chocolate dipped pretzels just add about a teaspoon of mint extract to the melted chocolate =)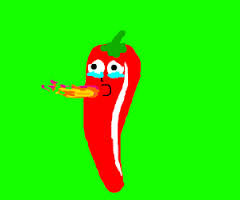 Fun idea!! I used white Ghirardelli chocolate chips and big salted pretzel rods. Had fun with Valentine's decorations but this could be done for every holiday, I love it!! Love the flavor of sweet and salty together and with a crunch!! White chocolate is pretty testy sometimes when melting and it seized on me, I think because of the big chunks of salt from the pretzels or I might have gotten some steam in it from keeping the heat on while dipping and decorating....If this happens to you, just add about a teaspoon of tasteless oil like canola and it should smooth back out for you and melt down again. I used a box with "X" holes cut into it to harden my chocolate in the fridge. It worked out great!! Thanks for posting a great and easy idea to make fun treats for any holiday!!!!
2

cups semi-sweet chocolate chips or 2 cups white chocolate, chocolate chips

24

pretzels (You can use the ones that look like sticks to if you wish)

1

cup of any topping you like such as candy sprinkles, coconut, crushed peacons, etc
Melt you Chocolate chips in the microwave or chocolate melter for as long as it takes to make the chocolate smooth and easy to use.
Then using a fork put the pretzel on the fork and dip has much as you feel necessary. (If your using a stick like pretzel you can just hold it and dip if you like).
Before chocolate cools sprinkle on your sprinkles,coconut,crushed peacons,etc.
Put in fridge for about 10mins to harden.
Enjoy!