Leslie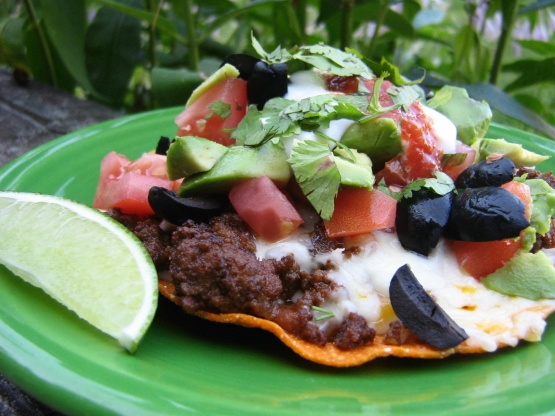 Although tostadas do not typically have meat in them, this recipe does. Ground beef is usually used for tacos, refried beans in tostadas and a mixture of the two for burritos. I leave it up to you how you wish to enjoy your Mexican. Please feel free to take liberties with this recipe in regards to your own tastes.

Mmmm these are good. Thanks!! :)
Cook ground beef, onions, crushed red pepper, cumin and chili powder in a skillet until no longer pink, stirring to break into crumbles.
Stir in refried beans.
Place equal amounts of the beef and bean mixture on each tostada shell.
Top with cheese, lettuce and tomato; dress tostada with the optional toppings of your choice.