Rita1652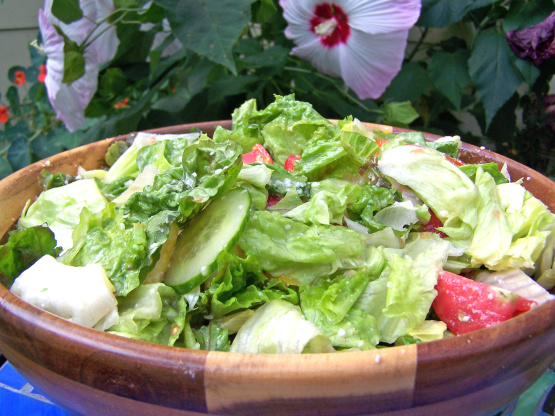 Great tossed salad to make when going to a potluck/party. Can be made up to 2 days ahead. I usually double this when a larger salad is needed potlucks.

I really liked this salad, and plan on making it again. I didn't put dry mustard, or parmesan, simply because those ingredients were not in my pantry. Used olive oil in place of the reg. salad oil. I also used different portions sizes for some of the ingrediants. Also prepared this the night before. In any case I found this to be a tasty salad, and will most likely make this again. This is a wonderful base of greens/dressing that can be a very versatile recipe. Thanks so much for sharing. Regards.
Mix garlic, salt, dry mustard, lemon juice and oil together with a fork in the bottom of the serving bowl.
Sprinkle parmesan cheese over all but do not stir.
Cover with washed and dried greens, filling to top of bowl.
Seal tightly with clear plastic wrap.
Refrigerate for at least 6 hours, up to 2 days.
When ready to serve, toss very well, this can be done by turning upside down as long as the wrap is tightly in place.