Tortuga Tuna Croquettes With Ginger Lime Creme Fraiche
Rita1652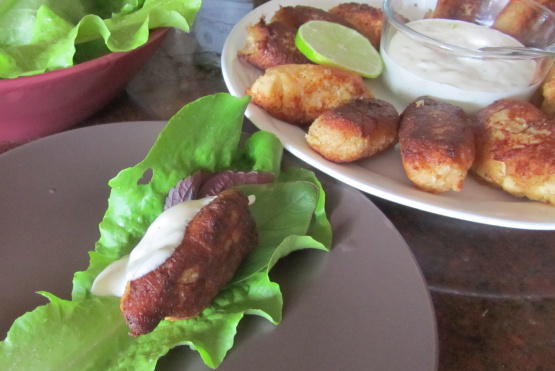 Ahoy, me mates. Here is a French sea chicken dish worth your hard plundered pieces of eight.

I made this using 1/3 cup ranch dressing adding lime juice and zest 1/2 teaspoon fresh grated ginger. It was plenty so I suggest to cut the dip in half to keep it less fattening. I shaped my croquettes into Cylindrical shape but Circular would work with this recipe because it call to pan fry where the cylinder would be best deep fried. These are very coco-nutty. A nice thing. Adding some red pepper flakes, scallions, chives, or diced onion would really kick this up. After frying the first batch I placed in a warm oven to keep warm. I did end up serving these in lettuce with choice of herbs (Italian basil, tulsi/Holy basil) I made 14 Croquettes. My DH said three stars I say 4. Like the lime flavor. Thanks.
Prepare Creme Fraiche. In a glass jar combine the sour cream and heavy cream. Let sit at room temperature until ready to serve. Just before serving, stir in ground ginger and lime zest.
In a separate bowl, combine mayonnaise, eggs, lime juice, fresh ginger, and honey. Add tuna, coconut, and bread crumbs. Mix well and then shape into croquettes. Fry in coconut oil. Add more oil if needed. Drain on paper towels. Serve croquettes with a dollop of Ginger Lime Creme Fraiche. Garnish with a slice of lime.