Recipe by Nose
This dish gets its name from the look of the glossy amber-colored sauce swirled over the tan tofu. You should enjoy the taste and texture of tofu to try this dish -- it's its own flavor, not pretend meat -- so use a good, quality tofu. This is silky, savory, and tasty, and more than the sum of its simple parts. From Japanese Cooking: A Simple Art, by Shizuo Tsuji. Note: I have never added salt to anything containing soy sauce... until this dish. The recipe really does need it.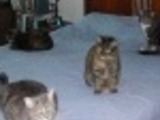 There was a minor mishap in my kitchen when I made this dish, so I left the tofu on to boil too long, and therefore I think too much of the liquid boiled off because when I went to put in the cornstarch it was much too thick. Well I managed to salvage it, and even with all my mistakes it turned out to be one tasty recipe, so why wait until I make it again to review?! Thanks Nose, by BF also thought it was fantastic! Note I used pickled fresh ginger as a garnish because I didn't think unpickled fresh ginger would taste very good and used vegetable broth instead of dashi. P.S. Although I used silken tofu, I was confused as to why the other types needed to be pressed.
If you are using anything other than silken tofu, you will need to press it for an hour-- but do NOT press silken tofu; it will crumble.
Mix dashi, sugar, mirin, and soy sauce in a medium-sized pot and bring to a boil.
Turn down to a simmer.
Taste: the flavor will be out of balance, a bit too sweet.
Add salt a bit at a time, tasting often, until the flavors are balanced.
Cut the tofu cake into four equal pieces and carefully slide them into the pot.
Be careful to keep the heat at a simmer-- higher heat will make the tofu crumble.
Ladle the liquid over the top and sides until the tofu is heated thoroughly, about 4 minutes.
With a spatula, gently remove the tofu pieces to deep individual dishes, 2 pieces per serving.
Keep the pot on the heat.
Mix the water and cornstarch and add to the simmering liquid.
Stir until thickened, about 1 minute.
Ladle the thickened sauce over the heated tofu.
Garnish with ginger.
Eat with teaspoons rather than chopsticks; this is very soft.
For Vegetarian use Dashi.