Tortillas Filled With Turkey
Debbwl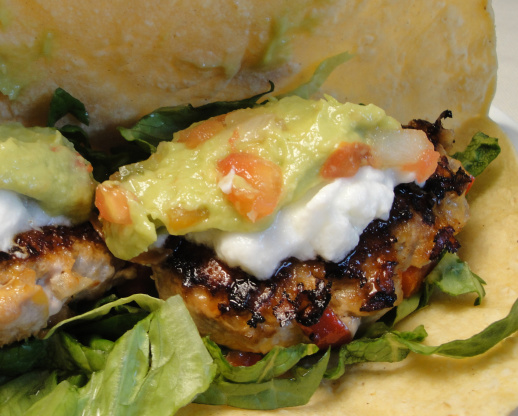 From Coup de Pouce, issue of June 2006. A recipe for the barbecue. In the preparation, there is 30 minutes for refrigeration.

So easy and tasty. I made the patties ahead and froze them, so made for a really easy week night meal. I formed the patties into long ovals, making it easier to wrap in a tortilla. We found the portions quite generous - only used 1/2 patty each. Thanks for sharing.
Mix delicately ground turkey, cheese, red bell pepper and onion. Shape in 4 patties of about 1/2 inch thick and put on a baking sheet that has plastic wrap on it. Cover and refrigerate for 30 minutes to let the flavour blend together.
Put barbecue to medium-high heat. Put turkey patties on greased grill. Close cover of barbecue and cook for 8 minutes or until patties not pink inside. (Flip at mid-cooking).
Put a tortilla on a working surface. Garnish half of the tortilla with 1/2 cup of lettuce, one turkey patties, 2 tablespoon of guacamole and 1/2 tablespoon of sour cream. Fold the tortilla on the garnish. Prepare 3 more tortillas the same way.