COOKGIRl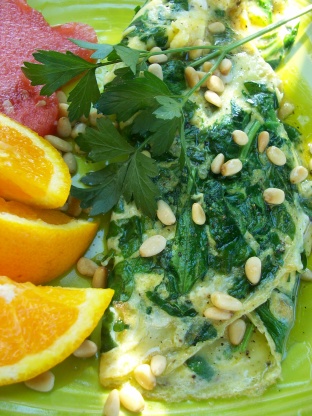 Dish with eggs from Spain. From hubcom.com

A had a few problems with understanding the recipe but I managed to make the omelet without any major problems. First, skipped blanching the spinach and chopped up 3 cups loosely packed baby spinach leaves. Heated butter up in pan until browned and lightly sauteed spinach for 10 seconds. Added eggs, cooked about 1 minute or until firm enough to bi-fold. Toasted pine nuts and fresh parsley garnish with a light drizzle of extra virgin olive oil and a light sprinkle of cracked black pepper. Thanks! Reviewed for Veg Tag August.
Wash the spinach. Remove and discard any tough stalks and shred the leaves. Blanch the spinach in the water that clings to it and drain as soon as it collapses. Press the spinach dry through a sieve and leave to cool a little.
Lightly beat the eggs with the nutmeg and salt and pepper. Stir in the spinach and nuts.
Heat the oil in an 8 " frying pan. Tip in the egg mixture . Fry gently for about 10 minutes until the eggs begin to look set. As it cooks neaten the sides with a spatula to build up a deep stright edge.
Slide it out on to a plate then insert it back into the pan and cook the other side for about 5 minutes. A little more oil in the pan may be necessary. Drain well.
Serve warm or cool, cut into quarters with piping hot chips fried in olive oil and a tomato salad.