Tortilla Soup ( Sopa De Tortilla)
twissis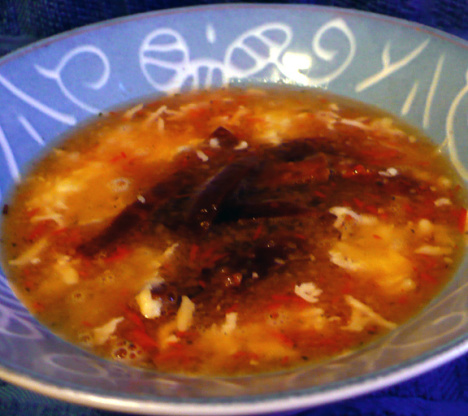 A delicious soup from central Mexico. I found this in Betty Crocker's International Cookbook. For Zaar World Tour 8

Made for ZWT-8 Family Picks, I made a half recipe of this soup exactly as written for 2 of us. This soup is good, but mostly for what you put into it - the crispy tortilla strips & the cheese. The soup itself is rather bland & it needs the cheese for flavour & crispy tortilla strips for texture. The other reviewer mentioned sour cream which I'm sure helped to a degree, but my thought is that a generous amt of lime juice would add the zing it needs. It definitely should be eaten as soon as assembled or the tortilla strips will lose their crunch. The desired golden brown colour happened faster than I expected, so mine were a darker than desired brown colour (my bad). I'll be "playing" w/your recipe to see if my instincts are on track. Thx for sharing this recipe w/us.
Cut the tortillas into 1/2 " strips. Heat oil in a 10' skillet, fry strips in batches until golden brown. stirring occasionally, about 3 minutes. Drain.
2. Place the 1/4 cup water, tomato, onion and garlic in blender, puree until smooth. Heat tomato mixture, broth, water and spices in a 3 quart saucepan, simmering for about 3 minutes. Sprinkle each serving with tortilla strips and cheese. Enjoy!