Tortilla Ranch Chopped Salad
lazyme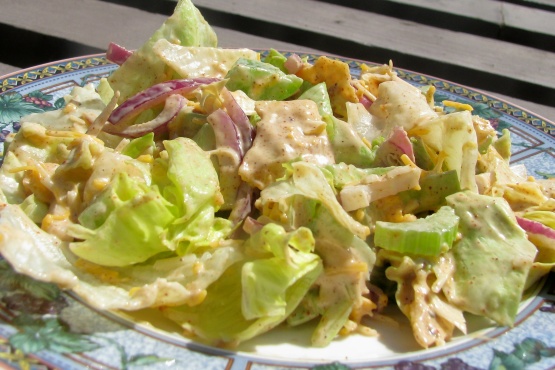 I tossed this together to serve with dinner, the Mexican flavors were a hit with me so I thought I would post it to see if others agree. Prep time includes all the chopping. Makes 6 side servings or 2 entree sized portions.

This is really a yummy salad. I used red peppers and added seeded, chopped cucumbers. I didn't have any ranch so I mixed 3 TBLS italian salad dressing, 2 TBLS each mayo & sour cream and thinned a bit with milk. Didn't have taco seasoning so used 3 TSPS each cumin and chili powder. It would have been easier if I didn't have to substitute and will buy both ranch & taco seasoning to have on hand for this salad.
After all the veggies are chopped to be about the same size pieces place them all in a large bowl(one with a lid is best). Add the cheese and chips. Top with the seasoning and dressing.
Cover and shake the salad until everything is evenly coated. (If you don't have a large enough bowl with a lid just stir everything.).