Derf2440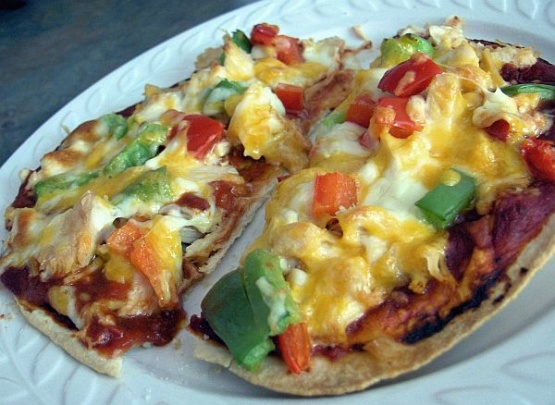 It was really easy. I used sausage instead of chicken. I didn't have pizza sauce so I seasoned some ketchup with garlic, oregano and basil. It was quite tasty.
Preheat oven to 400f degrees.
Cover a baking sheet with tin foil and spray with veggie spray; place tortillas on baking sheet.
Spread each tortilla with half of the pizza sauce, spread evently right to the edges; top with 3 0z, half the chicken, on each,.
Sprinkle chopped peppers, half over each.
Combine the cheeses and sprinkle half on each tortilla.
Place baking sheet on middle rack of oven and bake for about 15 minutes or 'til the cheese is well melted and the tortilla edges are browned.
Cut each pizza into 4 pieces and serve immediately.