lazyme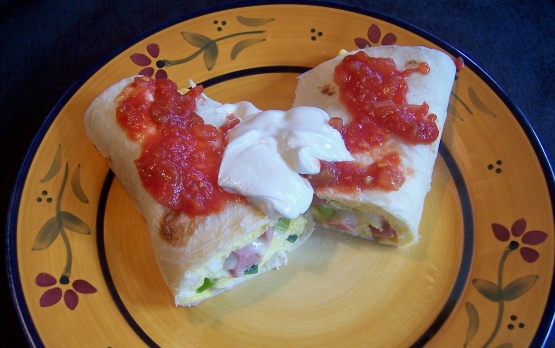 This omelet makes an exceptional hearty breakfast or lunch. Serve with salsa or avocados and tomatoes tossed with lime juice.

This is MY KINDA meal! This was absolutely fabulous! I have to admit I left the ham out, but other than that I didnt do anything different. THis made for one fabulous meal. Thanks a lot. Fabulous flavors! THanks Bev!!!
Whip eggs, liquid and seasonings.
Warm tortillas in skillet; set aside.
Melt butter in a 10" non-stick skillet coated with cooking spray over high heat.
Heat until bubbly.
Pour in egg mixture.
Pull eggs toward the center from each side.
Remove from heat when eggs no longer run but are still quite moist.
Top with filling ingredients, sprinkling them over entire omelet.
Slide omlet onto warmed tortilla.
to roll, first fold bottom edge of tortilla up 1", then fold sides in 1".
Begin rolling, ending seam side down.
Let rest for 1 minute, then cut omelet in half.
Cut and serve with salsa or avocado-tomato relish.
Note: To make avocado-tomato relish, combine diced avocados& tomatoes with fresh lime juice.
Makes 1 omlet.