Serve with salsa and sour cream and a side salad. :)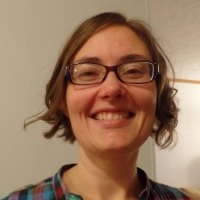 We liked this quite a bit. I left out the olives, used whole wheat tortillas, and fat free refried beans and cheese. I only made half the recipe in a 8-inch sq pan and we still got 4 servings out of it, this is definitely going to get made again, thanks!
Preheat oven to 375°F.
Spray a 9- x 13-inch baking pan with oil.
Spread 1/4 cup tomato sauce on bottom of pan.
In a bowl, combine the remaining tomato sauce with onion, refried beans, vinegar, oregano, cumin, and garlic powder.
Then layer in the following order: 1/3 of the tortillas, 1/3 of the sauce mixture, 1/3 of the cheese, 1/3 of the tortillas, 1/3 of the sauce mixture, all of the black beans, all of the olives, all of the green chiles, remaining tortillas, remaining sauce mixture, remaining cheese.
Cover tightly and bake for 20 minutes.
Uncover and bake 15 minutes more.
Let stand 10 minutes before serving.