Tortilla Espanola (Traditional Spanish Potato Omelete).
Prep 15 mins
Cook 30 mins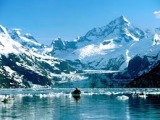 This Spanish influenced recipe is adapted by chef Mario Batali. Tortilla Espanola is a very common, simple and delicious dish found in most areas of Spain. This version has a high ratio of potatoes to eggs (the way I like it!). You could serve this as a tapas offering, breakfast, a sidedish or a non-meat main dish. Enjoy.
Directions
Preheat the broiler.
Heat 1/4 cup of the olive oil in a large cast-iron skillet.
Add the potato and onion slices, season with salt and pepper and cook over moderate heat, stirring frequently, until the potatoes and onion are tender but not browned, about 15 minutes.
In a large bowl, lightly beat the eggs and season with salt and pepper.
Gently scrape the potato mixture into the large bowl containing the eggs. (Make sure not to leave any of the potato mixture in the skillet.).
Return the empty skillet to the heat and add the remaining 2 T. olive oil.
Add the egg mixture (with potatoes and onions), spreading it out in an even layer.
Cover and cook over low heat until the tortilla is set on the bottom and edge , about 10 minutes.
Transfer skillet to the oven and broil about 8 inches from the heat just until the top is set, about 1 minute longer.
Set a large plate over the skillet and carefully invert the tortilla onto the plate.
Let stand for 5 minutes.
Cut into wedges and serve warm or at room temperature.
Note: The tortilla can stand at room temperature for 3 hours before serving.
Reviews
Most Helpful
Sometimes simple is the best and that is the case with this omelet. I cut this down to serve 2 and served it with fresh fruit and a muffin. I loved the sweetness of the onions with the savory potatoes and eggs. Thanks for sharing the recipe. Made for Culinary Quest 2016.
This was a little different from the one I make.Mine has more onion (for DD) and I cube the potatoes (also for DD so she can eat easier).I felt like this was a more grown up version for me.I made half a batch and enjoyed it for lunch.

Excellent breakfast. I made half a recipe and we still have leftovers. Will try it cold and see, but hot was wonderful. I served with fresh fruit for a great Sunday breakfast.