Tortilla Espanola (Spanish Omelet)
Rita1652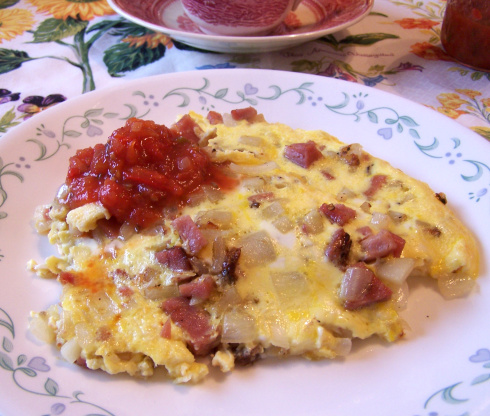 In Mexico, the word tortilla has two meanings. One is the more familar corn or flour flat bread, and the other means omelet. Serve this omelet with a stack of the former, warmed in the oven while the omelet cooks.

We were looking for something a little different for Sunday breaky, this was quite good. Cut the recipe in half for the two of us and added some sweet green pepper, diced. Used the crushed red pepper flakes, but left all of the salt out, felt there was enough in the ham. Did everything else as the recipe said. Happened to have a couple of tomato/basil flavoured tortillas, so I wraped the omelet in them. We enjoyed it with some salsa spooned over it, served at the table. Thanks for posting.
Combine potatoes, onion, the 3/4 teaspoon salt, crushed chilies and ham.
Heat oil in a 10 inch ovenware skillet.
Add potatoe and ham mixture to skillet.
Cover and cook over med heat 15 minutes or until potatoes are tender, stirring occasionally.
Combine eggs, milk, 1/2 t. salt and pepper.
Pour over potatoes and ham in skillet.
Reduce heat and cook over low heat 8 to 10 minutes or until eggs are nearly set.
Uncover skillet and place under broiler 3 to 4 inches from heat 2 to 3 minutes or just until top is set.