Tortilla De Patatas -- Potato Omelet (Spain)
loof751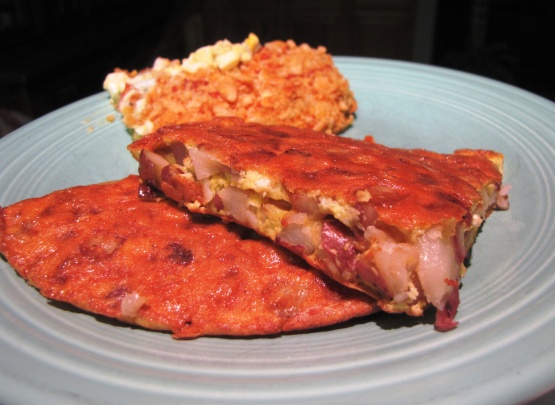 This recipe comes from the 2002 cookbook, Mediterranean Street Food, & it makes one of the most common, yet one of the tastiest of Spanish omelets. This omelet will serve 4-6 as an appetizer, or just 2 as a main course. Preparation time does not include the chopping or dicing of the vegetables.
In an 8 1/2-inch skillet, put the oil & place over medium-low heat. When oil is hot, add potatoes & cook for 15 minutes, stirring occasionally.
Add onion & cook another 20-30 minutes, or until the potatoes & onion are completely done & lightly golden.
Pour excess oil into a small bowl & set aside.
Put vegetables in a larger bowl, then pour the beaten eggs over the veggies, season to taste with salt & pepper & stir carefully to combine.
WIPE THE SKILLET CLEAN, then pour the reserved oil back into the skillet. Place over medium heat &, when oil is hot, pour the egg-&-vegetable mixture into it.
Shake the pan to spread this mixture evenly & cook for 7-10 minutes, or until the bottom is golden.
Carefully slide a spatula along the sides & underneath the omelet to make sure it is not sticking, then place a plate over the pan. Hold it tightly with one hand & turn the pan over with the other hand. Then slide the tortilla back into the pan & cook for another 3-5 minutes, or until the bottom is set but the inside still slightly moist.
Serve warm or at room temperature & enjoy!