Derf2440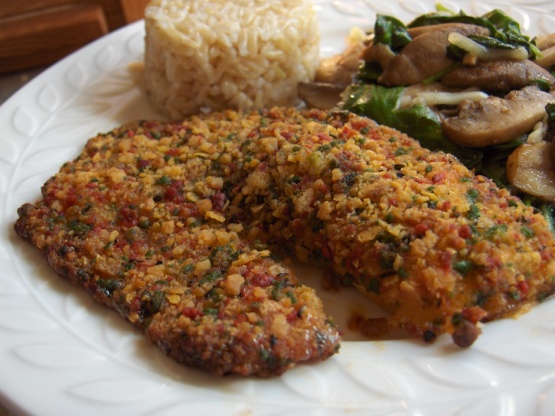 I'm not fond of fish, but even I like this dish. Tilapia is mild, and the spicy crust is very appealing. I like to make the crumb crust in bulk and freeze in meal sized amounts. Then this becomes a super quick weeknight meal.

Very good, however I changed it up a bit LOL I am somewhat like Sandra Lee when it comes to cooking LOL I crushed Hint of Lime Tostitos, added southwest seasoning, and fresh cilantro. I still followed the egg dipping and baking temp/time and it was delicious.
Preheat oven to 375°F Coat a baking sheet with cooking spray.
Place tortilla pieces, pepper, lime juice, cilantro and spices in blender. Pulse until the mixture is uniform small crumbs. Spread on plate.
Beat egg in shallow dish.
Dip each fillet in egg, then in crumbs, patting crumbs to adhere. Place on baking sheet.
Bake until fish flakes, about 15 minutes depending on thickness of fillets.