Chilicat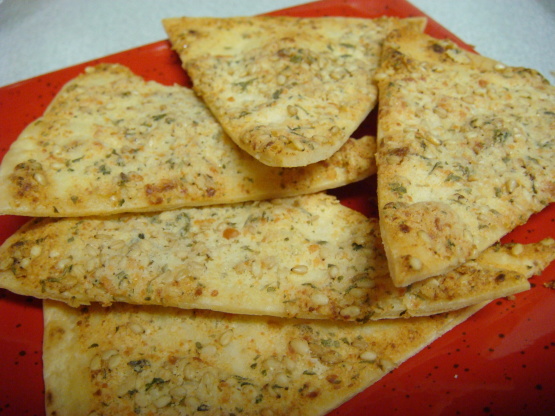 A friend of mine makes these. They are SO delicious,easy to make and quite a different use of tortillas. They are good "as is" or you can serve them with salsa or humus. They make a nice appetizer or snack.

These are soooo good! I spread the topping fairly thin (personal preference) and they were still very tasty. The sesame seeds are a must - they get all brown and toasty in the oven and add so much flavor. Thanks for a great way to use up leftover tortillas!
Combine all ingredients except for the tortillas.
Spread each tortilla with a thick layer of the spread.
It will seem like a lot of topping, but it is just right.
Cut each tortilla into 8 wedges.
Put on an ungreased cookie sheet.
Bake at 350 degrees for 12 to 15 minutes or until they are crisp and brown.
Serve hot or cold.