Boomette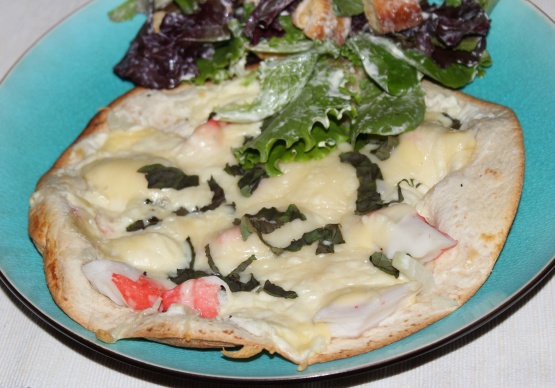 A throw together pizza while starving! :) Serve with a green salad and it is plenty for two-three people -- or serve as a quick appetizer for a few people! NOTE: To prevent a soggy crust, immediately slide baked pizza onto a wire rack and cool for several minutes before slicing/serving!
This is so yummy. I made 3 different versions to adapt our taste. For DS, I left out the onion, garlic powder and basil. For DH I left out the onion. And for me I used all the ingredients and wow it was so good. For the swiss cheese, I used slices of Jarslberg. Thanks KUW :) Made for Rookie tag game
Preheat oven to 425F for Pyrex, or 450F for a metal pizza pan.
Spread olive oil on pizza pan (I use Pyrex!) to prevent the tortilla from sticking to the pan.
Place flour tortilla onto pizza pan and spread on cream cheese.
Top with imitation crab meat and onion.
Lightly sprinkle with garlic powder, salt, black pepper, and cayenne.
Top with swiss and cheddar cheeses.
Top cheeses with the snipped basil.
Bake at 425F (Pyrex) or at 450F (metal) for 15 minutes.
Remove from oven and immediately slide pizza onto a wire rack so the crust doesn't sweat!
Cool for 10-15 minutes, slide the pizza back onto the pizza pan and cut into 8 pieces, with a pizza cutter.
Three-four pieces with a green salad is plenty for two-three persons, or as an appetizer for a few folks!
NOTE: Use whatever cheese mixture you like ~ my photo with the blue background is made with swiss and mozzarella, with the basil underneath where it can't be seen!