chia2160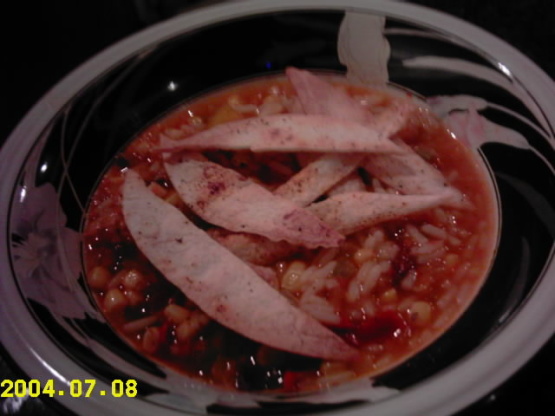 I do not like chicken, and get tired of picking it out of chicken based soups. So I came up with this version of tortilla soup, which I love. It is hearty and you can use more or less of the ingredients, to taste. This is definitely easily adaptable. You can add zucchini, black beans, etc.

This is an easy recipe that is pretty quick to assemble and uses ingredients that are easy to find. It wasn't real clear if the rice was to be cooked or uncooked. I used about three fourths cup of dry rice, cooked. I used vegetable broth and green peppers. I also added a can of black beans and a can of pinto beans, drained and a can of chopped tomatoes. I didn't have any chipoltes so I used about a tsp(?) of ancho powder. We topped it with sour cream and cheddar and monterey jack cheese. Delicious! Thanks for sharing your recipe Chia!
Preheat oven to 425°F.
On stovetop heat a large pot on med high add butter and oil, add onion, peppers, rice, and cumin, stirring until well coated.
Add stock and bring to bubbling, lower heat, cover and simmer for 10 minutes.
After 10 minutes add 1 cup salsa, chipotles, and 1 cup corn.
Cook 10 minutes more.
Ad lime juice, cilantro and and stir.
For tortilla chips:.
Spray a baking sheet and spray 4 tortillas with cooking spray.
Sprinkle with chili powder and cumin, slice into strips and bake in the oven for 5 minutes if using flour tortillas, 10 minutes if using corn tortillas.
Place several strips over soup.
Garnish with crema, avocado, salsa, hot sauce, etc to taste.