Tortilla Chips (Better Than Restaurants!)
Sara 76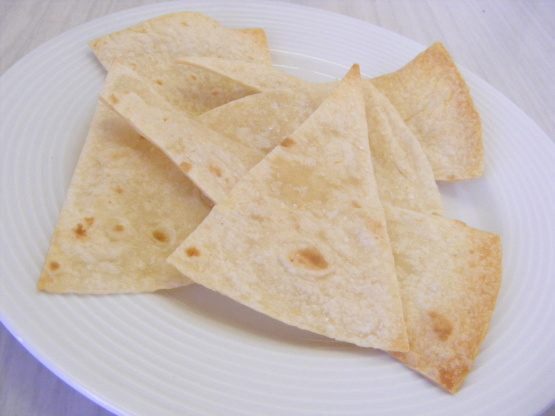 This is really more of a cooking secret than a recipe...I came up with this last night when I made Mexican food for dinner...GREAT!

These were great! I had a pack of tortillas in the pantry, and cut each round into 12 wedges. I used olive oil spray, and lots of course salt. They were a HUGE hit at my football party, and my Mum actually thought they were store bought, didn't realise I had made them myself, they were so good! They were a hit with the kids too, so I'll be making these often! Great recipe Linzi! [Made for Fall 08 PAC]
Using cooking oil (I use vegetable), I spray the inside of the pan generously.
Add half the chips and spray.
Add the rest of the chips and spray.
Add salt to taste -- I like them very salty!
Heat on a very low setting, shaking about every three minutes until all of the chips are very warm but not burning.
Remove from heat and serve immediately.