Tortilla, Black Bean, Corn and Tomato Soup
Ambervim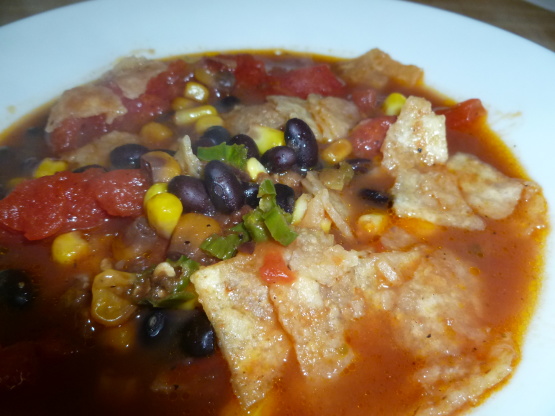 If you need something you can make quickly from your pantry with a great result, this is it! The heat can be ratcheted up or toned down to your liking. It is healthy, tasty, easy, scratch and a crowd pleaser.

This recipe is a great starter recipe showing all the right ingredients for a wonderful soup. The right addition of spices would make this perfect. I used a large jalapeño and added in salt and pepper but it needed something more to spice it up. I am considering the next time I make it to add in some taco seasoning. Some great toppings in addition to the sour cream and tortilla chips may include shredded cheddar cheese, sliced green onion, chopped tomato & a slice of avocado.
1

tablespoon olive oil

4

teaspoons garlic, minced

1

teaspoon chili powder (I use green, any will work)

1

hot pepper, minced (Serrano, jalapeno, whatever you have or want to use)

30

ounces diced tomatoes with juice (plus or minus depending on can size or fresh yeild)

30

ounces black beans, rinsed and drained (plus or minus, from a can or start dried and cook first which would, obviously increase your prep ti)

15

ounces chicken broth

10

ounces corn kernels (fresh or frozen best)

1

cup tortilla chips, crushed (more for garnish if you want)

1

tablespoon lime juice (lemon will do fine, wedges for garnish if you want)
sour cream (for garnish) (optional)
Heat oil over medium heat. Add garlic, hot pepper and chili powder and cook until fragrant.
Add tomatoes, beans, broth, corn and 1 cup of water.
Season with salt and pepper.
Bring to a boil.
Reduce to simmer and add tortilla chips. Cook until softened (just a couple minutes).
Remove from heat and stir in lime juice.
Season with salt and pepper if it needs it.
Serve with either lime wedges or sour cream -- maybe add some more crunchy chips -- all are optional.
Enjoy.