Tortilla and Bean Casserole
Parsley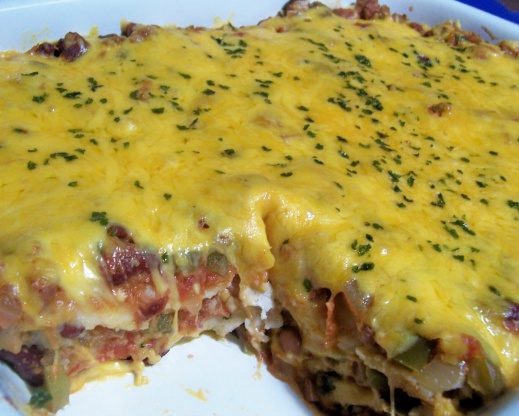 I adapted this recipe many years ago from a booklet produced by Pace Picante Sauce. In the booklet, credit for the recipe is given to Ina Colfelt of Westminster, Maryland. This is a tasty meatless entree.

This was amazing. Nice and spicy, but not too hot. I used more Picante suace than the recipe stated, as I could only find fourteen ounce cans. Next time, I think I'll try using black beans as well as kidney beans.
In a large skillet, combine onion, green bell pepper or red bell pepper, tomatoes, picante sauce, garlic, and cumin. Heat to a boil, lower heat, and simmer 10 minutes.
Stir in beans.
In a 13 X 9 X 2 baking dish, spread 1/3 of the bean mixture.
Top bean layer with 6 tortillas, overlapping tortillas to fit the dimensions of dish, Layer 1 cup of the cheese over the tortillas.
Layer another 1/3 of the bean mixture, remaining tortillas, and then remaining bean mixture.
Cover tightly with foil and bake at 350 degrees for 30 to 35 minutes or until hot.
Uncover and top with the remaining 1 cup of cheese. Continue baking 5 more minutes.
Let stand for 10 minutes.
Top with garnishes of choice.