Tortellini With Turkey Sausage in Creamy Butternut Apple Sage
Rita1652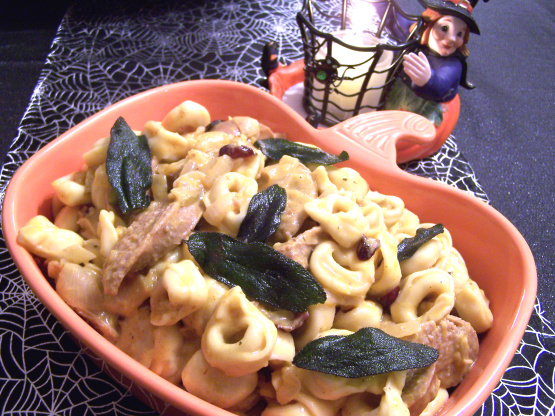 A Turkey dinner! Yes! Turkey sausage with butternut, apples, onions and cranberries. Flavored with crisp sage and garlic. For a quick and easy method look here Pureed Squash Butternut, Acorn Any Hard Winter Squash!. The sausage can be removed from the casing and crumbled and cooked.

I made this for dinner tonight using fresh pumpkin puree. While it was good, it was a little on the sweet side for my family. I probably won't be making it again, but if I did I would use a spicy sausage and maybe replace the apple juice with broth or some wine.
Spray a large hot frying pan with non stick spray. Place links in and cook for 15 minutes till brown, remove from pan and set aside.
In pan add olive oil and brown sage leaves till crisp and remove all set 6 aside fro garnish. Crumble 2 leaves.
Add additional oil if needed to saute the onions for 3 minutes over medium heat, stirring to remove the brown bits of goodness from pan, add apple slices, the 2 crumbled sage leaves, garlic and seasoned salt, cinnamon and cook for 1 minute.
Add apple juice and cranberries to onion mixture, bring to a boil then lower to a simmer for 5 minutes over medium heat.
Meanwhile slice sausage.
Stir the butternut and cream into the onion mixture.
Add sausage stir and reduce heat to a low simmer.
Toss cooked tortellini in to sausage mixture add some pasta water if needed to thin sauce. Season with salt and pepper.
Garnish with sage leaves.