Tortellini With Roasted Garlic Sauce (Appetizer)
GaylaJ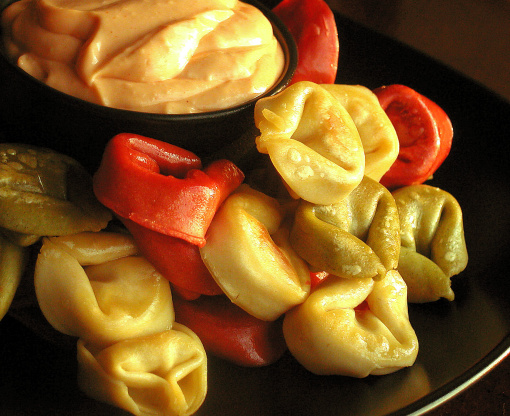 This is a wonderful appetizer and a nice change from the usual chips and dip or crackers and spread combo. We especially loved the sauce! If you roast the garlic ahead of time, it all comes together rather quickly. I didn't heat the sauce after pureeing, just served it at room temperature. Note added 12/26/05: I agree with Marie Nixon's review that there is enough sauce for 2 packages of tortellini. I did actually make 2 packages, and there was plenty of sauce for that amount.

Made this twice this Thanksgiving season. Once for Thanksgiving day and for a Euchre party that weekend. For Thanksgiving, I made the recipe as written and everyone loved it! We all agreed that it was a nice change from the usual chips & dip. But for the Euchre party, I did everything as written up to the frying part. Since the tortellini was going to be sitting at room temp for quite a few hours, I thought by frying them they would dry out. So, instead I drained, cooled, and patted dry with paper towel. Then tossed them with a tablespoon of olive oil. They stayed great for the 4 hours that they sat out. And the dip was to dye for!!!!Thanks Gayla for a nice change of pace recipe that worked for the two gatherings I had/attended!
1

large head of garlic

1

(9 ounce) package fresh tortellini (I used tri-colored five cheese)

2 -3

tablespoons olive oil
1⁄2 cup reduced-fat mayonnaise
1⁄2 cup nonfat sour cream (I used light, rather than nonfat)
1⁄3 cup grated parmesan cheese

2

tablespoons Frank's red hot sauce
Preheat oven to 350°F Cut 1/2-inch off top of garlic and remove papery outer skin, leaving cloves intact. Wrap garlic in foil and bake 1 hour, or until tender when pierced with a sharp knife. Let stand until cool enough to handle.
Cook tortellini according to package directions (do NOT overcook, best to undercook a bit). Rinse under cold water, drain well on paper towels. Heat 2 tablespoons oil in large nonstick skillet over medium heat(medium-high worked better for me). Add tortellini in batches to oil, cook and stir 3-5 minutes or until lightly golden. Add more oil if necessary. Drain on paper towels.
Separate cooled garlic into cloves; pinch each clove so roasted flesh comes out and place in blender or food processor. Add mayonnaise, sour cream, Parmesan cheese and hot sauce. Cover and process until pureed and very smooth. Spoon into small saucepan; cook and stir over low heat until hot and bubbly. Transfer to small serving bowl.
To serve, arrange tortellini on serving platter. Dip into Roasted Garlic Sauce.