Tortellini With Porcini Mushroom Sauce
Annacia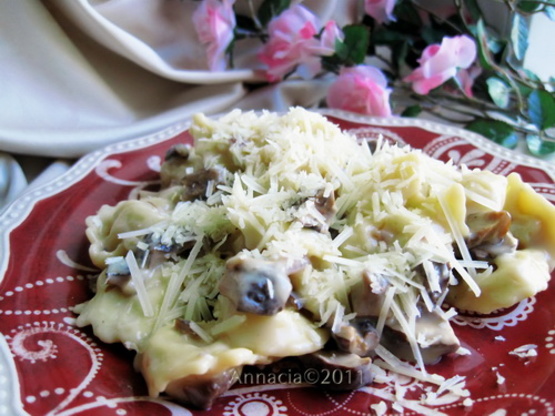 From September 2008 Bon Appetit, DH and I thought this made for a nice lunch.

Review is just for the sauce - Mr Grumpy objected to another pasta dish this week. I have learned that dried mushrooms work best when they are rehydrated for at least 4 hours, and preferably 8. I used a mixed mushroom blend, which included porcini, chantrelles, morels, and other mushrooms. I did add a splash of wine, since I had a glass at my elbow in the kitchen... This was delicious over veal patties. So don't limit your use of this sauce with just pasta.
Place porcini mushrooms in a 2-cup measuring cup; add enough hot water to measure 2 cups. Let stand until mushrooms are soft, about 20 minutes.
Drain mushrooms, reserving soaking liquid. Coarsely chop porcini mushrooms.
Cook tortellini in large pot of boiling salted water per package directions. Tortellini should be just tender but still firm to the bite. Stir occasionally while boiling.
Meanwhile, melt butter in large skillet over medium-high heat. Add shallots; saute until golden and tender, about 4 minutes.
Add mushrooms and 3 tsp thyme; saute 2 minutes.
Stir in 1 cup mushroom soaking liquid and cream; boil until thickened to light sauce consistency, about 3 minutes. Season to taste with salt and pepper.
Drain tortellini; return to same pot. Add mushroom mixture and toss to coat.
Stir in 1/2 cup cheese. Season with salt and pepper.
Transfer tortellini to bowl; sprinkle with 1/4 cup cheese and 1 tsp thyme.
Serve immediately.