Tortellini With Baby Spinach and Sun-Dried Tomatoes
Mindset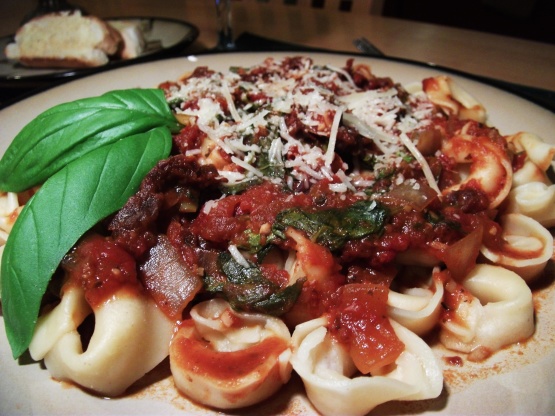 This is a super quick, yet very tasty pasta supper. I didn't add any extra olive oil to my sauce, but rather used the oil that was clinging to the sundried tomatoes after they were drained. If your tomatoes are not canned or jarred with basil leaves like mine are, please feel free to add some more fresh basil according to your taste. Also, you may use 1 pound of your favorite tortellini. I use cheese filled to keep this vegetarian, but tri-colored or meat filled will make a nice substitution
Bring a large pot of salted water to a boil.
Heat a large deep skillet or saucepan over medium/medium high heat.
Add sun dried tomatoes and saute for about 30 seconds.
Next, add garlic and crushed red pepper and cook for about 45 more seconds, careful not to let the garlic burn.
Add tomatoes and stir together.
Let sauce come to a boil, reduce heat to low, then cover and let simmer while pasta water comes to a boil.
Boil pasta according to package directions (about 6-8 minutes).
While pasta finishes cooking, add spinach to the sauce.
I end up using about 1/2 of a 10 oz bag.
Give spinach leaves a stir and then place lid back on the sauce to let the leaves wilt slightly.
As pasta finishes cooking, ladle a couple scoops of sauce into serving bowl.
Drain tortellini, and add to bowl with a couple more ladles of sauce overtop.
Toss to combine.
I always have some sauce left over which I keep on the side for dunking in bread.
Top tortellini with grated cheese and serve!