Tortellini W/Spinach Soup
Parsley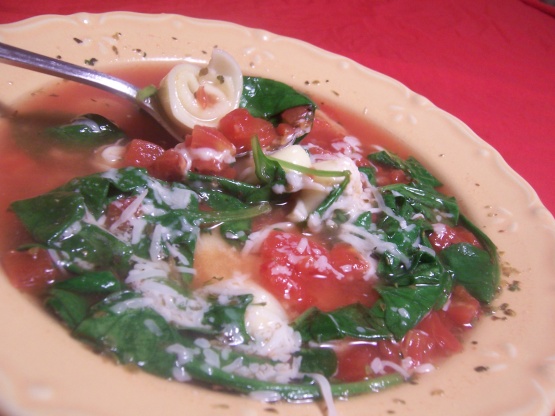 This is one of my meals...when I've worked late...and I want to get dinner on the table in 10 LOL

Easy and delicious! Would work wonderfully with beef or vegetable stock as well. I used the white wine and added crushed red pepper. Thanks for posting!
Heat olive oil in dutch oven over med high heat.
Cook garlic for 30 seconds, stirring constantly.
Stir in wine, broth and Italian Seasoning.
Bring to a boil.
Add tortellini and cook for 4 minutes.
Stir in tomato and spinach and cook for 2 minutes (just until spinach is wilted).
Add butter and Parsley.
SERVE!
This needs to be served immediately -- the tortellini soaks up the broth and gets mushy.
Garnish with cheese -- and serve with crusty bread!