Tortellini Vegetable Soup (4 Ww Points)
punkyluv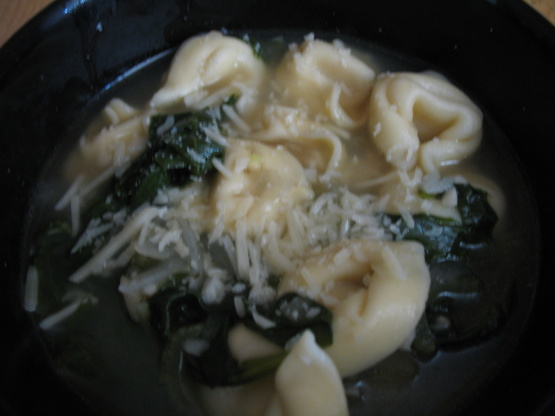 from lowcarbfriends.com Update: 4-02-09: this is a really quick soup to make, and so tasty!:) i left out the carrots and added garlic to the onion....lots of garlic.... i doubled the batch and took some to "punky's mum" so we will have to see how she liked it :) I think next time I might add some mushrooms.

MMMMMMMM...this was so good! Very simple to prepare, wonderful flavor, request from whole family to make again, I am definately more than happy with this one. I did sub veggie broth for the chicken since that is what I had on hand, and I added garlic just cause I love it.;0) The lemon juice is the kicker. It adds a wonderful little something extra to this. Thank you so much for sharing, definately a keeper.
In large pot, heat oil over medium heat. Add carrots, celery, onion, salt & pepper. Cook, stirring until softened, about 5 minutes.
Add broth; bring to boil. Add tortellini; cook until tendr according to package. Stir in spinach and lemon juice.
For a heartier soup, add shredded cooked chicken but don't forget to add the points when calculating.
Servings: 6.Calories: 216.Protein: 20 g.Fat: 5 g (1 g saturated).Chol: 12 mg.Carbs: 31 g.Sodium: 960 mg.Fiber: 5 g.Sugar: 4 g.
POINTS: 4 per serving.