Tortellini Vegetable Soup
Pamela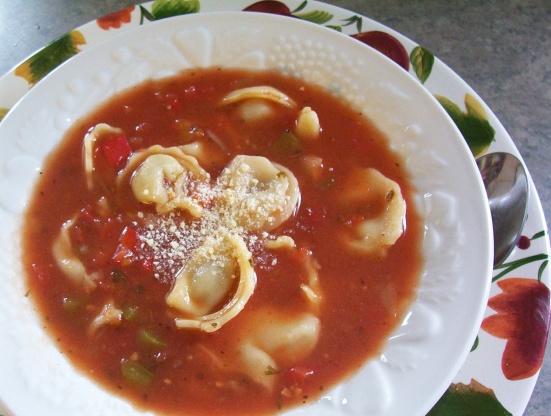 A good comfort soup, especially on a chilly or snowy night... It's like a 'warm your soul' soup.

Top Review by Monica
Our family loves this soup! I lost the recipe and was so happy to find something like my original here. I add whatever veggies I have on hand. I also add extra salsa. I cook my tortellini separately and only add whatever I am sure we are going to eat, b/c I don't like mushy pasta. I like to keep a container of tortellini and a container of soup in the fridge for weekday lunches.
In a large saucepan or Dutch oven, cook onion and garlic in olive oil until tender, about 6 minutes.
Add broth, tomatoes, picante sauce and basil; bring to a boil.
Stir in tortellini; simmer uncovered 15 minutes.
Stir in bell pepper; continue to simmer 3 to 4 minutes or until tortellini is tender.
Ladle into soup bowls; sprinkle with cheese.