Tortellini Spinach Salad With Sesame Dressing
Nimz1466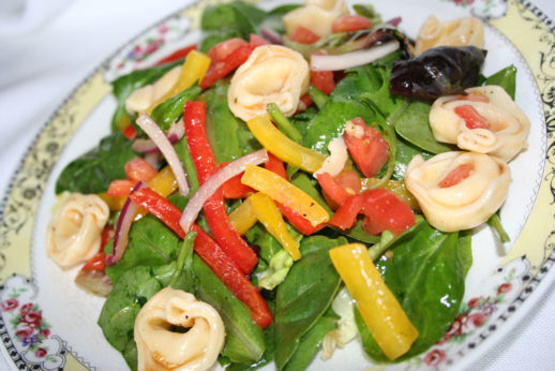 I copied this recipe from a vegetarian cookbook many years ago and I just came across it again today. It is such a wonderful salad - I love spinach and cheese tortellini but the dressing is what really makes it stand out.

Top Review by J-Lynn
We LOVED this meal! The salad has a wonderful Asian flair, and it served the 2 of us for 3 meals! (I just add enough of the pasta mixture to the right amount of spinach each time.)
In the dressing, I cut back the oil to 1/4 cup and increased the soy sauce (I couldn't find tamari) by 1 Tbsp. I thought these changes made the perfect flavor.
I've never used sesame oil before, and none of the bottles at the store specified 'toasted'; it is wonderfully fragrant however, and really makes this dish!
Combine dressing ingredients (oil through black pepper) in a jar, shaking to combine (or whisk together in a small bowl).
Cook tortellini according to package directions, being sure not to overcook. Drain and transfer to a large serving bowl.
Stir the bell pepper, tomato and onion with the tortellini. Pour half of the dressing over and toss well.
Let marinate for at least 30 minutes, or up to 8 hours. (Cover and chill if longer than 1 hour. Bring to room temperature before serving.).
Just before serving, stir the spinach into the tortellini mixture. Pour on the remaining dressing and toss well. Sprinkle on the sesame seeds and toss again.
*Note: To toast sesame seeds, place in a small, dry skillet and toast over medium heat until they begin to pop and smoke slightly, about 3 minutes. Let cool. Be careful not to burn them!