Tortellini Soup a La Sherrie
loof751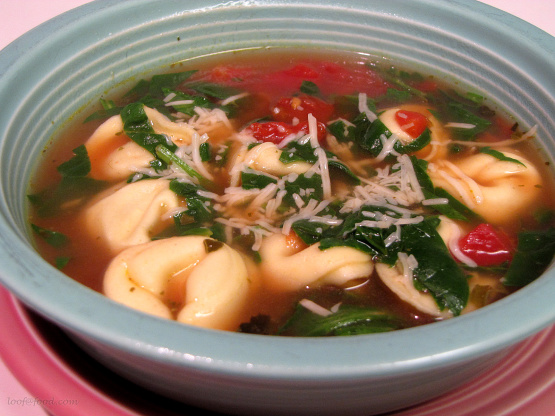 Our church has been providing dinner before our Worship time on Sunday nights. My friend Sherrie is part of the cooking teams rotation and she made this fabulous soup for over 100 people. It is good, easy and really fast! I use Trader Joe's Pesto tortellini but any variety will work. You can add diced chicken to the pot if you want a little more protein.

Wonderful flavorful soup! I sauteed the garlic in a little broth instead of oil to save on calories/fat, otherwise made as directed. I used canned tomatoes and did not drain them. Loved how quick this was to get to the table too. Thanks for sharing the recipe!
In a large pot saute minced garlic cloves in Olive Oil over medium heat for 2-5 minutes stirring occasionally, don't let the garlic brown.
Add in the chicken broth,diced tomatoes, dryed Basil, or pesto, and black pepper; bring to a boil then and tortellini. Cook till tortillini are tender. Taste broth with tortellini and adjust seasoning.
Stir in spinach, cook 1 minute.
Stir fresh parmesan in to each bowl of soup.