lazyme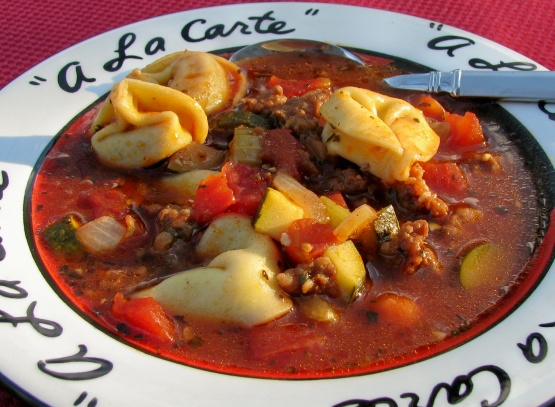 This is a great use for those fresh pasta packages in the cooler of the store. It's a good time to start making soups too. Just make the soup base ahead of time and drop in the pasta when ready.
1

lb hot Italian sausage, casings removed

1

small onion, chopped

1

cup celery, chopped

1

cup carrot, finely diced

1

teaspoon garlic salt

1

teaspoon black pepper

2

garlic cloves, minced

5

cups beef broth

1

cup red wine

2

cups tomatoes, diced

1

teaspoon dried basil
1⁄2 teaspoon dried oregano

1

(8 ounce) can tomato sauce

2

cups zucchini, diced

8

ounces fresh cheese tortellini
1⁄2 cup parmesan cheese, grated
fresh parmesan cheese, shredded
fresh basil, chopped
In a large pan cook sausage with onions, carrot and celery until sausage is browned. Season with garlic salt and black pepper. Add garlic and zucchini and cook for another few minutes.
Stir in beef broth, wine, tomatoes, basil, oregano and tomato sauce. Bring to a boil. Reduce heat; simmer uncovered for few minutes. Add tortellini and cook for a few minutes. Add grated Parmesan cheese to soup. Season with salt and pepper to taste. If too thick add more broth. Garnish with shredded Parmesan cheese and basil before serving.