flower7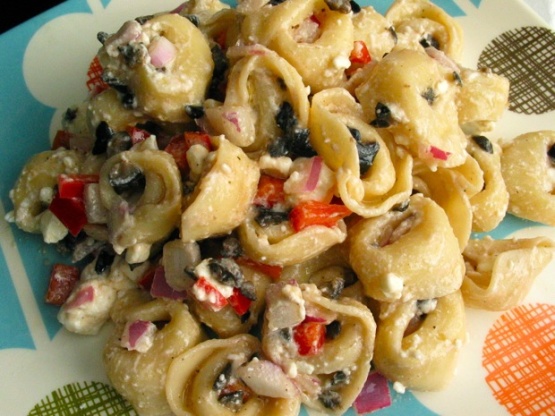 A simple tortellini salad with veggies and a vinaigrette dressing. Simple, and tastes great warm or cold! I got this recipe from a former roommate, and we used to eat it pretty much weekly. This keeps well in the refrigerator, but you can eat it right away too. The feta cheese adds a nice punch, but the mozzarella makes for a more comfort-food feel; try both if you'd like! This is great as a meal in itself or as a side dish.
Start by defrosting/cooking the cheese tortellini in a pot of boiling water. The tortellini are ready when they float in the water and are heated through. Move them to a colander to drain, and set aside.
Drain and coarsely chop the black olives (you can use pre-chopped olives to save time). Peel the onion, de-seed the pepper, and coarsely chop them as well.
Place chopped vegetables and cheese tortellini in a large bowl. Sprinkle desired amount of cheese (feta or mozzarella) and the olive oil and red wine vinegar over the vegetables and tortellini, and then toss it all together. If you are using mozzarella cheese, it will probably melt a bit, which is fine.
Give the salad a taste, and add salt and pepper as desired. You may also want to add more olive oil or vinegar, depending on your preference. You can eat the salad right away, warm, or save it for later and eat it cold. The flavors will meld and (in my opinion) get better with time, so make sure you make enough for leftovers!