Tortellini and Vegetable Chowder
Asha1126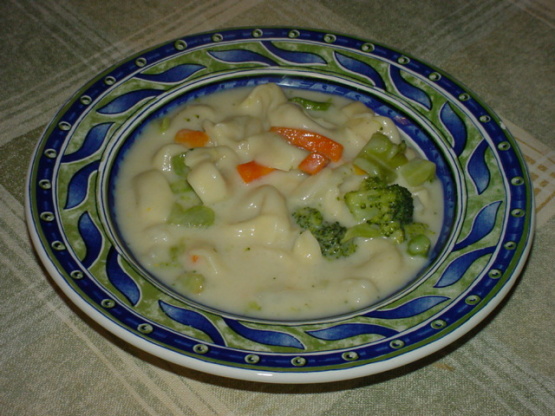 You can use refrigerated meat or cheese tortellini for this soup. This is a meal in 30 minutes.

My family loves this recipe. I use vegetable broth instead of chicken broth, and Silk soy milk instead of dairy milk. And, I make the recipe even more decadent by spooning the chowder over biscuits. It makes the recipe like an open faced pot pie, and we gobble it up. I love the texture of the tortellini and moist biscuit (from the chowder). Yum.
In a large saucepan combine broth and frozen vegetables. Bring to a boil.
Stir in tortellini, return to boil, reduce heat, and simmer about 5 minutes or until vegetables are tender.
Meanwhile, in a screw-top jar combine about half of the milk and all of the flour. Cover and shake well. Add to broth mixture, add remaining milk and basil.
Cook and stir until thickened and bubbly. Cook and stir for one more minute.
Stir in cheese until melts. If desired, season to taste with fresh ground black pepper and salt.
Enjoy!