Sara 76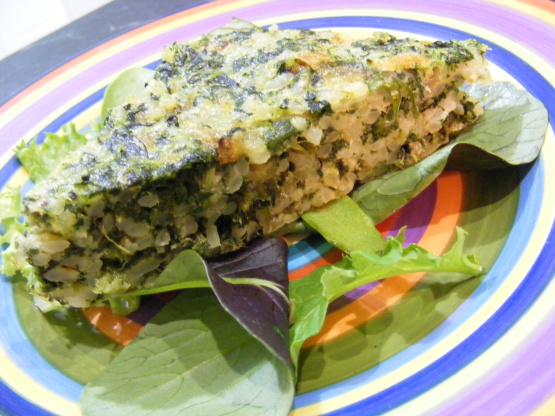 "Torta di Riso is one of Italy's favourite cold picnic food recipes and a big part of Easter Italian food customs". This recipe was originaly posted by Cath Andrews on: http://www.explore-italian-culture.com/cold-picnic-food-recipes.html. Thank you Cath for sharing this great recipe.
Preheat the oven to gas mark 6, 200ºC, 400ºF.
Defrost the spinach and squeeze as much liquid out of it as possible.
Boil the rice in salted water until 'al dente'.
Fry the onion in the olive oil until soft and golden.
Break the eggs into a cup and beat lightly.
Put the rice in a large bowl and add the Parmesan, nutmeg, salt and pepper. Mix well.
Add the spinach, onion and butter, followed by the eggs.
Mix everything together thoroughly.
Grease an ovenproof dish. Make sure it's not too big - the mixture should be three inches or so deep.
Bake for about 25 minutes, until firm and golden brown.