Torrones - a Christmas Time Nougat Candy
Yankiwi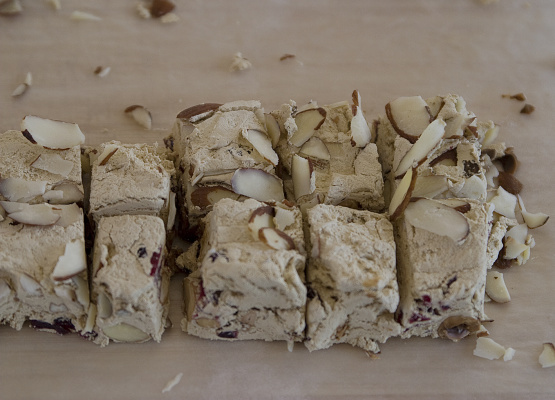 These candies are made by all different nationalities, each claiming their "own" special touches, all over the world. I found these on Easy Entertaining by Michael Chiarello on the foodnetwork.com.

Love this recipe! I needed an Italian candy recipe for a themed family Christmas party. These turned out great on the first batch, and the family loved them. I used cranberries as the fruit and sliced almonds. However, these would lend themselves well to a variety of different fruits and flavors. I'm adding to my candy recipe collection.

Hint: Line your pan with waxed paper, spray very lightly with oil, then add a thin layer of almonds on bottom of pan. You'll not only increase the nut quotient (always a good thing!), but ensure easy release of the candy once it has cooled. I would post a photo, but they're all gone :-)
2 2⁄3 cups superfine sugar
2⁄3 cup light corn syrup
1⁄2 cup water

2

egg whites, at room temperature

2

teaspoons vanilla extract

1

teaspoon almond extract

1

teaspoon orange extract (optional)
1⁄2 cup candied fruit (optional)
candied fruit, garnish (optional)

1

cup sliced almonds
Combine sugar, corn syrup and water in saucepan.
Cook over medium heat until candy thermometer registers at 260°F.
In an electric mixer, beat egg whites to form stiff peaks.
When sugar reaches 260°F pour slowly in a thin stream into egg whites, while mixer is running.
Add extracts and beat on medium speed for 13 minutes; then fold in candied fruit, if using, and mix for another 2 minutes.
Now fold in 1/2 cup sliced almonds.
Pour mixture in buttered and lightly dusted floured 9" pan.
Top with remaining almonds.
Let sit overnight and then cut into pieces.
Serve on a "festive" decorated plate.