Xanthia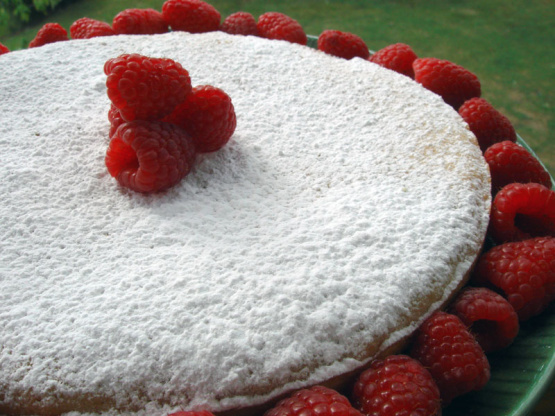 Said the author of The Laura Secord Canadian Cookbook: "The Home Cookbook, published in Toronto in 1879, included a recipe for Toronto Pie. Although continuing as a family favorite, the name slipped into disuse during the intervening years. A delicate, hot-milk sponge cake split and filled with raspberry jam, Toronto Pie belongs in the same family as Boston Cream Pie. During my 30+ years of living in Toronto, I have never heard of this cake." Maybe not, but it sure sounds good! I haven't tried this yet. I chose it for Zaar World Tour II.

This turned out really great. I had last minute notice of company coming for dinner so I tried this great recipe. I did veganize it (soy milk, margarine, egg replacer) and it still turned out great. I'm sure that it would be even better the next day, but my guests requested to take it home they were so impressed!
Preheat oven to 350 degrees Fahrenheit.
Grease 9 inch round layer cake pan and line with wax paper.
Combine scalded milk and butter.
Sift or blend together flour, baking powder and salt.
Beat 2 eggs until very light and fluffy.
Gradually beat in granulated sugar and vanilla.
With mixer at high speed, beat eggs and sugar for 1 minute.
Fold in dry ingredients, then stir in hot milk mixture.
Turn into prepared pan.
Bake in preheated 350 degree Fahrenheit oven for 30 to 35 minutes, or until cake springs back when lightly touched.
Cool in pan.
When almost cool, loosen edges from pan.
Split into 2 layers.
Sandwich together with raspberry jam.
Sprinkle with icing sugar on top.