Katzen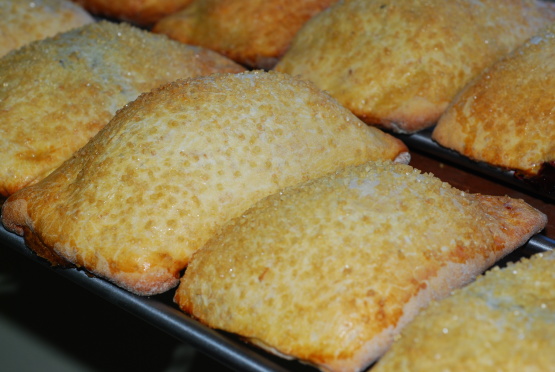 Adapted from Torontos Open Window Bakery by way of Matthew Goodman, you have to try these! Prep time is an estimate.
I live in Toronto and knew Health Bread Blueberry Buns to be the best in the City.<br/>I agree with Toronto cook about the dough. It was tough, bready and would not roll out to 1/8 inch thick. I also cut into to 5.5" rounds. I prefer Norene Gilletz "Yummy Yeast Dough recipe from Pleasures of Your Processor and let it rise. It is sweeter and rolls out far better.<br/>I do like the filling, however I mix the blueberries and sugar together and heat, then add the cornstarch so the dry ingredients don't clump together.
In a small bowl, dissolve the yeast in the warm water. Let stand until mixture starts to bubble, about 5 minutes.
Sift together flour, sugar and salt. Place in the bowl of an electric mixer. Add shortening, yeast and water, eggs and vanilla and beat until dough is smooth. Let stand while you are preparing filling.
Mix filling ingredients in a medium saucepan. Bring to a boil, then lower heat and simmer uncovered for 5 minutes, stirring occasionally, until mixture thickens. Remove from heat and let cool.
On a well floured surface, roll out dough to 1/8-inch thickness. Add flour whenever dough begins to stick. Cut dough into pieces 5 inches square. Place 1 tablespoon filling in center of square, then fold dough over on top and pinch to close. Pinch ends closed. Cover buns with a towel and let stand 30 minutes.
Preheat oven to 375 degrees. Brush buns with egg wash and sprinkle tops with sugar. Bake until browned, about 16 minutes. Serve warm or at room temperature. Enjoy!