alligirl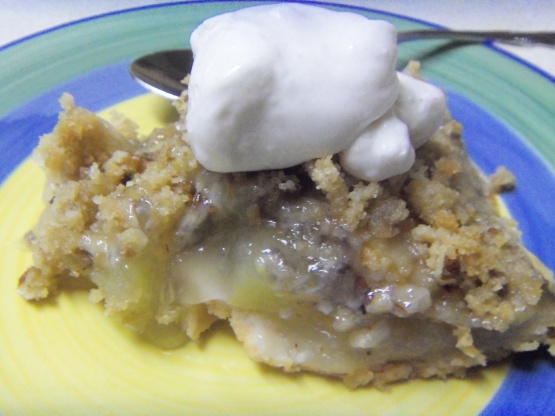 Not Apple Pie made in the nude, but rather apple pie without its traditional pastry covering. Instead, it has a walnutty streusel topping! Adapted from recipes in Good Housekeeping and Family Circle (I think). Tastes delicious serves hot or cold.

I must confess, I also 'cheated', using a frozen crust leftover from another recipe. I think the crust should have been par baked, or blind baked, before filling, as the end result tasted a little doughy. I also am not sure about the addition of the applesauce; I used it, but would most likely skip it next time. It seemed to make the pie too mushy. The topping for the 'topless' pie was a nice addition, with great flavor and added good texture! Thanks for sharing, Oenophilly.
Prepare Pastry:
Stir together salt and flour in bowl. Add butter/shortening with blender until mixture is coarse. Add water one tbsp at a time, stirring in between. Shape the pastry into a disk, cover it with plastic wrap, and chill until firm (about 1 hr).
After Chilled, roll pastry onto lightly floured surface with a rolling pin until it makes a circle about 11 inches wide. Transfer to a 9-in pie plate. Squash it down to make it fit, and trim and crimp the edges.
Prepare Pie Filling:
Combine sugars, flour, lemon rind, lemon juice, and cinnamon in a small bowl. Thoroughly toss the mixture with the apple slices, ensuring that all of the slices are well coated.
Prepare Topping:.
Combine flour, brown sugar, cinnamon, and ginger in a small bowl. Cut in butter until the mixture is crumbly. Stir in walnuts.
Prepare Pie:.
Spread applesauce over bottom of the pie shell, then add the coated apple slices. They should make about three layers. Spoon the topping over the apples.
Bake pie at 400 for 15 minutes. Reduce heat to 350, cover pie loosely with tin foil, and bake for another 45 to 55 minutes.