Topfenpalatschinken - Crepes With Quark Filling
gemini08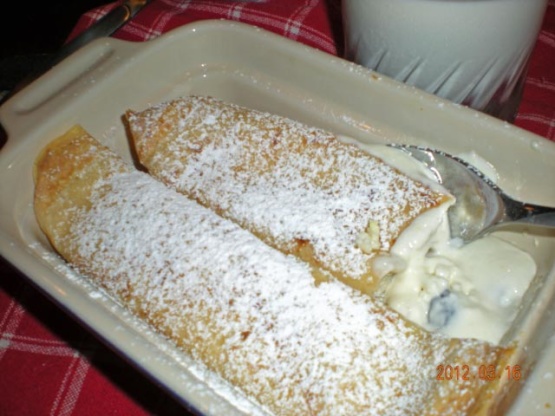 This is another classic Viennese dessert. Thinly baked crepes, filled with a Quark Cream filling and finished in the oven. It is important to use authenthic German Quark/Topfen. Some of the upscale markets and German deli's in the US carry it but if you can't find it, there is a fantastic recipe for home made Quark already posted. "How to Make German Quark", it's easy and inexpensive to make and works perfect for this recipe.

This is outstandingly good! I have never had Topfenpalatschinken before, and I absolutely loved it. Had to make some changes to be gluten and cow's milk free, though. The crepes were made with gluten free all purpose flour (rice flour, cornstarch, tapioca starch and xanthan gum) and cashew milk, and the topfen filling with dripped greek sheep yoghurt which is very close to normal quark with sour cream in consistency and taste. I will definitel make this again! Thanks so much for sharing!
Made for More Than Sauerkraut And Dumplings / German Forum.
For the batter:.
Combine milk, one egg, half of the softened butter and salt, mix at medium speed for a minute, reduce to low speed and gradually add the flour, blend for another minute.Cover and refrigerate for one hour.
Lightly butter a non stick skillet or omelette pan, heat over medium heat, ladle a little of the batter into the pan. Lift and swirl pan to cover entire surface, cook for @ 1 minute. Lift edge with a spatula to loosen and turn; cook ca. 30 seconds more and remove to a platter. Repeat with remaining batter, adding butter as needed.
For the Filling:.
Separate the two remaining eggs. Beat egg whites to soft peaks.
In another bowl mix the rest of the sugar with the 2 egg yolks, add the Quark, the raisins, sour cream and lemon rind. Fold in the beaten egg whites until well combined.
Fill each crepe with 2-3 tsp of the cream filling, roll up and place in a buttered baking dish, 4 to 6 per portion.
bake in a 350F oven until golden brown and heated through, Ca. 5 - 6 minutes.
Sprinkle with powdered sugar and serve right away.