Top Secret Version of Buffalo Wild Wings Asian Zing Sauce
Meekocu2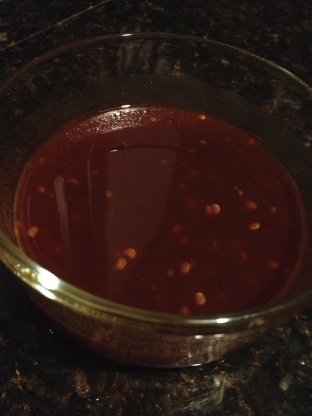 I got this off of the Top Secret recipes web-site. I have made it several times, always using Splenda instead of sugar. I also use an extra 1/2 cup of Splenda and 1/8 cup of water in place corn syrup and it thickens up just fine. My DH says it tastes just like BW3s. I also usually double the recipe. He loves it with baked chicken tenders rolled in bran flakes. Recipe created by Todd Wilbur www.TopSecretRecipes.com

Wow!!! This is so so so so GOOD. Made exactly as written. Did take advise from one of the reviewers about the Garlic Chili sauce from the Huy Fong Foods the one with the rooster on the front with a green lid. YUMMY!!!!
Dissolve corn starch in rice wine vinegar in a small bowl and set aside.
In a small sauce pan combine remaining ingredients.
Add corn starch and rice wine vinegar mixture and stir well.
Heat mixture on low/medium heat, stirring often until sauce reaches a boil and thickens.
Remove from heat, allow it to cool then cover it and chill it until ready to use.