Too Easy Cheesy Chicken, Broccoli and Rice Casserole
COOT226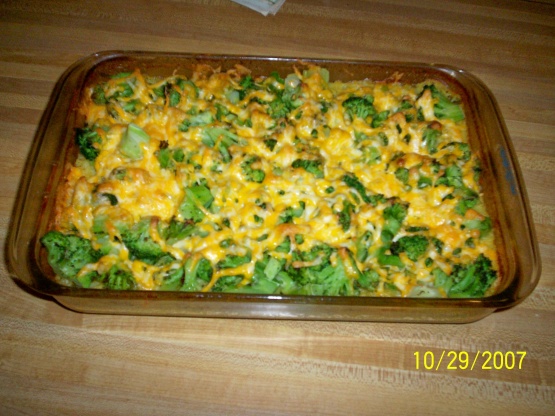 A delicious one dish meal that is full of flavor and will be cooked in less than 1 hour. The only prep time is for 2 cups of water to boil; and make sure the chicken is thawed if previously frozen. I got this recipe from my Brand Named Best Loved Casseroles book, in the "Dinner in Minutes" chapter.

this dish had a nice flavor to it, but it was rather dry. I will make it again, but next time, I will add a can of cream of chicken or cream of mushroom soup to it as well.
Preheat oven to 425 degrees and boil water.
In a 13x9 casserole dish, combine rice and contents of seasoning packet; add boiling water to dish and mix well.
Add chicken, sprinkle with garlic powder; cover and bake for 30 minutes.
Add broccoli and cheese; cover and continue to bake for another 8-10 minutes or until chicken is no longer pink in center.