jenne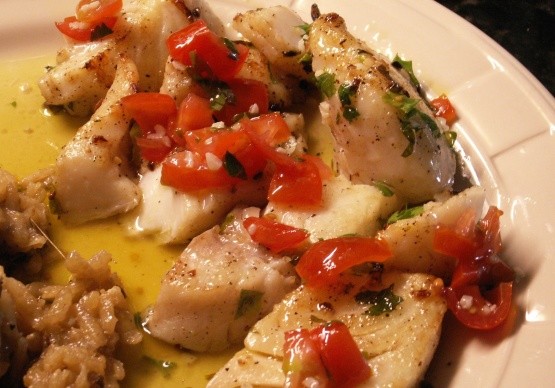 I went to a cooking class which was taught by the head chef from Tony's restaurant (AAA-five diamond award winning). This fish is so light, easy and flavorful. It uses Mediterranean ingredients. Prep time does not including marinating time (1 to 24 hours. . it's up to you).

This recipe is certainly easy, with ingredients I typically have on hand. I used fresh basil from the garden and enjoyed how much its flavor really shone in the dish. Like another reviewer suggested, I would cut back on the oil in the vinaigrette next time. It was a little oily for us. We prepared the fish in our grill pan on the stovetop. This recipe tastes fresh and summery. Thanks!
Wash and dry your halibut and remove skin if applicable. Cut fish into 4 pieces.
In a medium sized glass bowl, whisk together the marinade ingredients. Place fish in same bowl and turn to coat thoroughly. Top bowl with plastic wrap and marinate in the refrigerator for 1 hour up to 24 hours.
Once marinating is complete, grill (or pan fry) fish over medium-high heat for 6-8 minutes until fish is just done. . .do not overcook. . .the fish should still be light and have some "give" to it when touched with your finger and just start to flake apart.
While fish is cooking, whisk together sauce ingredients (do not cook the sauce).
After fish is cooked, top with a generous portion of sauce and serve!