lorihav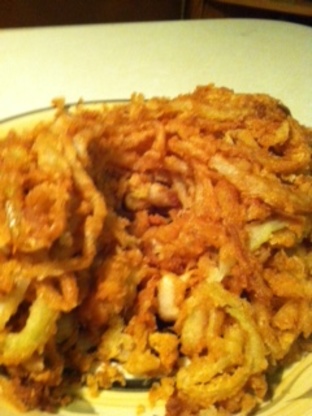 I received an email today with a couple of copycat recipes in it. Here is one of them.

The taste was great, but there are so many things wrong with this recipe. <br/><br/>1. Total time 20 minutes, really? You have to cut up the onions, split them into rings and then make the milk, egg mixture and soak them for 30 minutes. It also takes a long time to deep fry that many onions and then bake for 10 to 15 minutes. That's a whole lot more than 20 minutes.<br/><br/>2. Six onions? What size onions? I used 2 large onions and had way too many for the suggested pan.<br/><br/>3. The amount of milk, egg mixture didn't come close to covering even half of the onions. I had to triple this amount and it still wasn't enough.<br/><br/>4. After putting them in the oven they were soggy.<br/><br/>If you make these, modify all your ingredients and be prepared to give up 2 hours of work and an extremely messy kitchen and don't bake them. Would not do this again, very disappointed in the recipe.
Slice the onions crosswise and separate into rings.
Combine milk, eggs and salt in mixing bowl.
Soak the onions in the mixture about 30 minutes.
Place pancake mix in a shallow bowl.
Heat oil for frying in skillet to 375 degrees.
Remove the onion rings from milk mixture, dip in pancake mix and place in hot oil. Fry rings until golden brown and drain on paper towels. Pack fried onion rings solidly, but loosely, without pressing, into an 8x4-inch loaf pan.
Bake at 400 degrees 10 to 15 minutes. Turn onto serving plate.