Tons of Blueberry Coffee Cake
PanNan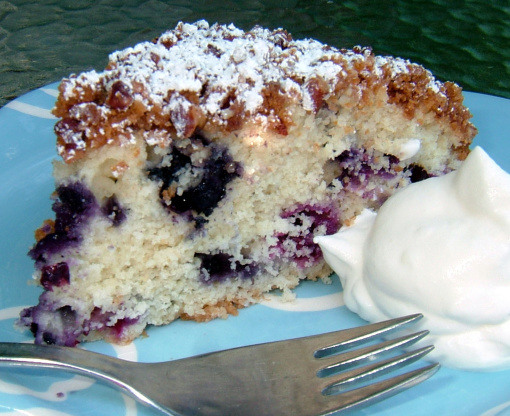 I don't know where I got this recipe from, but every time I make it..someone wants the recipe!! Thought I'd post it, so I would have it for my cookbook!

Top Review by ShaGun
I've made this twice. Both time I substituted blackberries for blueberries (because that's what we have growing right now). It is definitely important to cream the butter and sugar for a few minutes! The first time I just hand mixed them together for about a minute. The cake came out dry. The second time I made it I used a hand-held mixer and creamed the butter and sugar for about 4 minutes. The cake turned out much lighter and was not as dry. I also added some orange zest, which added a nice complementary flavor. I made this in a bundt pan. I added about half the batter, then the struesal topping, and then the remaining batter. Delicious! I will make this again.
Preheat oven to 375. Grease 9 inch springform pan.
Sift together flour, baking powder and salt, set aside.
In a large bowl (I use my kitchen aid) cream together the butter and sugar until light and fluffy. Beat in egg. Beat in the flour mixture alternately with the milk, mixing just until incorporated. Stir in blueberries. Pour batter into prepared pan. In a small bowl, combine topping ingredients ( I added the nuts last) Cut in butter until crumbly -- then add nuts. Sprinkle over batter.
Bake for 45 minutes (for some reason when I make it -- it takes closer to 1 hour) until toothpick inserted into the center comes out clean.
Allow to cool.
I like to remove cake to cake plate and dust with powdered sugar.
UPDATE.
I feel awfully silly, but I have figured out why the times vary -- when using frozen blueberries -- the time is closer to an hour. Fresh berries -- 45 minutes.
Thank you for everyone's suggestion of using vanilla. I have added 1 tsp to the recipe with good results. Thank you again.