Acerast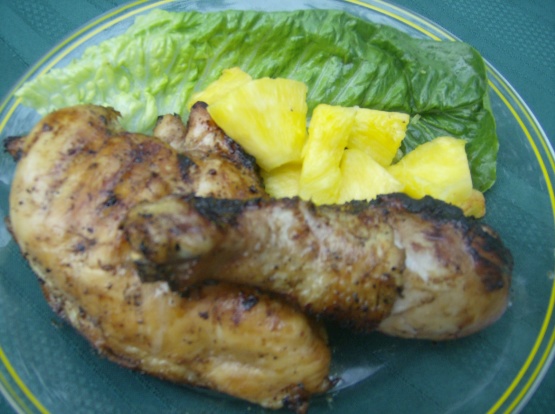 This recipe came to me from my friend Toni. Se is a wonderful woman who taught me a lot about Asian cooking. She is truly more than a friend, as my children consider her another grandma, and when they want this chicken they ask for "Grandma Toni's Chicken". ;-) It is highly flexible as Toni always cooks by taste. She always uses chicken leg quarters, because after raising 6 kids she totally understands frugal-but other, leaner cuts of chicken turn out wonderful as well. Toni's method when using leg quarters is to seperate the leg and thigh, then de-bone the chicken, but to leave the skin on for grilling. I now leave the bone in to simplify chicken and it still comes out just as good. When I find a great deal on chicken, especially during grilling season, I buy a lot of the chicken and the 2 gallon size zipper bags and make multiple batches of marinade, put the chicken in it and freeze it in the marinade. It is wonderful to pull it out of the freezer and just let it thaw and be ready to grill. Lastly, I am putting this in with Toni's amounts which are large, but it can be very easily adjusted.

This is wonderful stuff! The entire family enjoyed it (which is saying a lot because we have one very picky son). It was so easy to prepare this the night before and have it ready the next evening to put on the grill. We did both legs and breasts and the results were moist and delicious. The flavor was GREAT! Can't wait to try your freezer method. Thanks Kit_Kat :)
Wash and seperate chicken legs from thighs.
De-bone chicken if desired.
Combine remaining ingredients in pitcher.
place chicken in 2 gallon zipper-top bag.
Pour marinade on top of chicken.
Squeeze air out of bag and seal, place in refridgerator.
Allow the chicken to marinade for at least tow hours, but up to two days.
Turn bag over multiple times during marinading time.
Chicken can be frozen in marinade.
Grill chicken as desired, discard marinade.